25manna 40 years!
Joy, Fellowship, Excitement!
We warmly welcome you to 25manna's 40-year celebration in Brunna in Upplands-Bro municipality northwest of Stockholm!
On the 12th and 13th of October, the 25manna-weekend takes place and planning is in full swing. On Saturday, the 40th 25manna will be held and Sunday's middle distance is a World Ranking Event.
The map covers an area where the forest burned down a few years ago and runners will be met by nice passages of open areas in the hilly terrain mixed with very dense forest. There are both detail-rich areas, and areas with less detail and open runnable forest and cultivated land. The course planners are currently working hard to create fun and great orienteering at the right level for all courses.
The arena is located near commuter trains and buses, which hopefully will attract more people to use public transport to get to the races than is customary. In the arena, all services will be in close proximity to the finish and club tents.
News will be published on the website and on Facebook, so keep an eye out!
We hope to see you during the 25manna-weekend!
Jonathan Alm, Maria Cole, My and Lars Rönnols (race directors)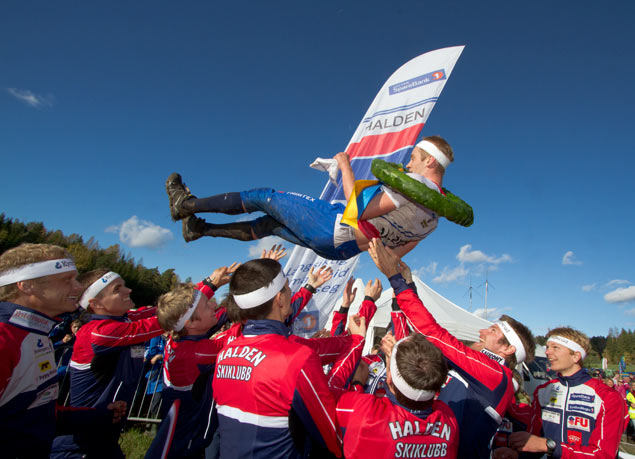 Haldens SK, the winner of 25manna 2012. Photo: Lars Rönnols