There is a limited number of parking spaces and the main car park is in a meadow, which can become muddy in rainy weather. Therefore, if possible, consider taking public transportation to the arena.
From the nearest commuter train station, it is a 1 km walk to the arena. There will be cars with trailers to transport heavy equipment from the station to the arena.
There is also a bicycle parking lot at the arena.
Safety
Make sure you arrive on time so you are not in a rush to park and get to the arena. If you come early in the morning, please wear reflectors.
It is very important to follow the traffic signs and to park in the designated place. Due to the heavy traffic, it is quite difficult to get back to the parking lot if you drive towards the arena before parking.
Rules
You are responsible for your own car and how it is parked. The parking ban in the area within "parking 2" has been lifted over the weekend, but certain rules must still be followed:
Do not block exits or entrances
Do not park closer than 10 meters from intersections
Leave a note in the car window with your mobile number in case we need to reach you.
No overnight parking is permitted in the area.
We are very grateful that the municipality and companies lend us their parking spaces. Therefore, please do not litter in the parking lot!
Payment
On Saturday, the parking fee is included in the registration fee for the team. On Sunday, you pay SEK 40 when you get to the arena. Payment is made with Swish.
Directions
You will find the car park at the coordinates 59.22892 N och 17.95669 E.
The distance between the main car park and the arena is approx. 2,5 km.
A
If you come on route 226 (Huddingevägen) from Stockholm, take route 259 (Glömstavägen) to the roundabout with exit to Gamla Tullingevägen. After approx. 500m, turn right onto Kasvägen and then follow the parking attendants' instructions.
B
If you come on route 226 (Huddingevägen) from Tumba, turn left at the roundabout after the railway station onto Hälsovägen and on to Katrinebergsvägen. Turn right when you reach Glömstaleden and follow the directions.
C
If you come on road 259 (Glömstaleden) from Vårby, pass the entrance to Katrinebergsvägen and drive another 500 m to turn off towards the parking lot according to the officials' instructions.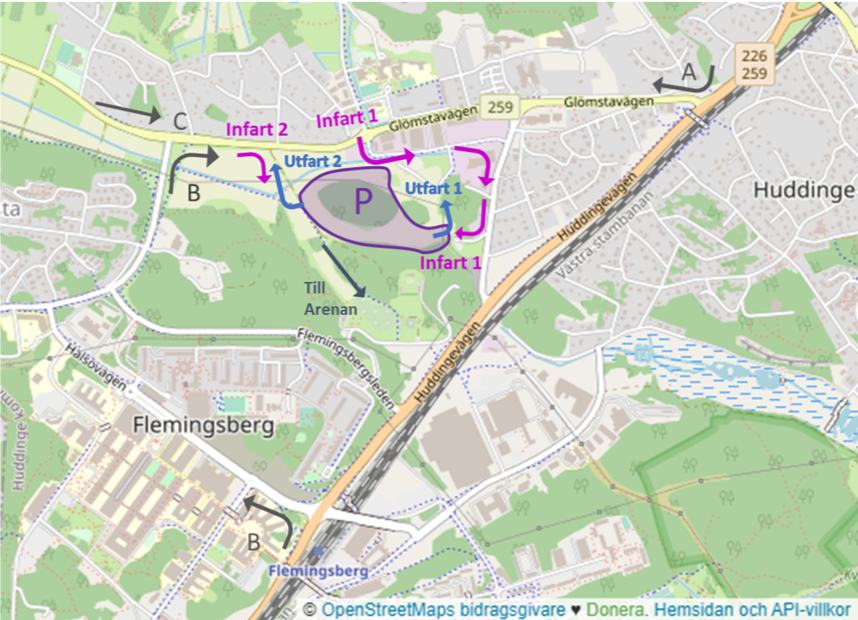 The entrances are marked with control flags..
Officials to guide you in the right direction are stationed in the parking area, but the area is large so you may have to drive a bit before you see an official who will show you where to park.
When the main car park is full, you will be guided to another car park.
Contact
Inquirues: trafik@25manna.se